Orthodoxy in Kauai
I was recently invited to visit the island of Kauai and the Russian Fort by the Congress of Russian Americans to participate in the 200th anniversary of the Russian presence in Hawaii.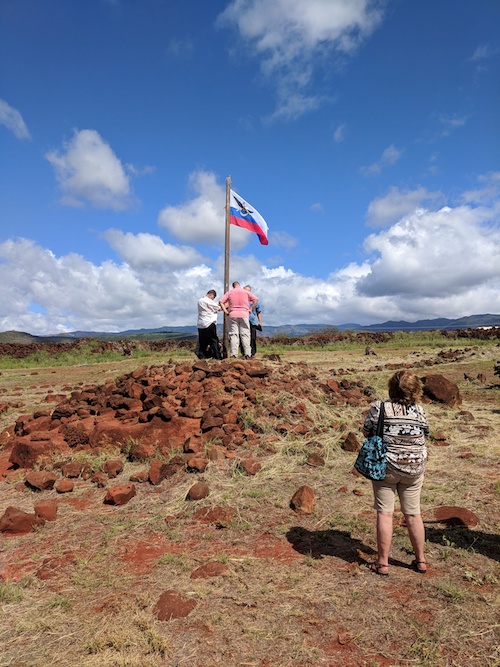 The goal of the forum, which was held November 11-13, 2017 in Kauai, was to improve deteriorating US-Relations.
The organizers asked me to serve a short Panikhida service for the Russian Orthodox seafarers of the Russian American Company and any other Russians who would have lived at Fort Elizabeth, two hundred years ago. This site of Fort Elizabeth, or as it is more commonly called "the Russian Fort," was the location constructed by the Russian-American Company and with permission from Kaumualiʻi, chief of Kauaʻi island. This is also believed to be the location of the first church in Hawaii, a Russian Orthodox Church.
I was honored to be invited and do the service.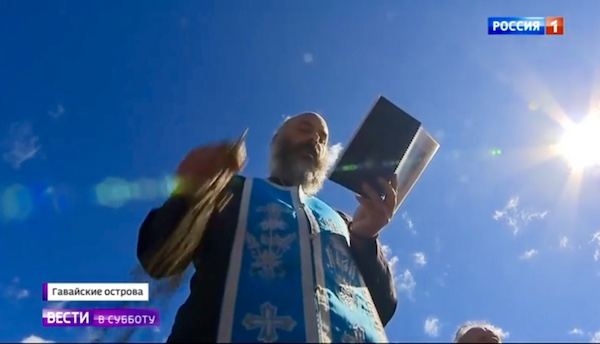 About one hundred people were present for the service on a typical beautiful Hawaiian day and once again I forgot to bring my sunglasses.
People from around the world were present. They came from the States, Russia, there was a large delegation from the Russian Ministry of Foreign Affairs, many locals from our Parish and many locals from Hawaii. Fr. John Schroedel from St. Juvenaly Mission in Kailua-Kona was also present as he was invited to be a presenter at the forum.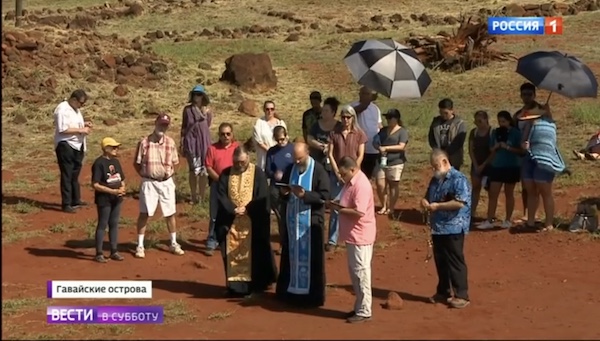 The memorial service was the final part of the three-day forum.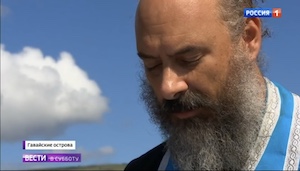 ---
This is how I found myself standing in the Hawaiian sun and under a Russian Flag; which somehow was run up the flagpole, as we were doing a Panhida services for those lost at sea.
A local man told me a story of how, for many years, a Russian man would go to Fort Elizabeth every day and run the Russian flag up this flagpole. Cleary, there is a lost history of Russian involvement here in Kaui and Fort Elizabeth.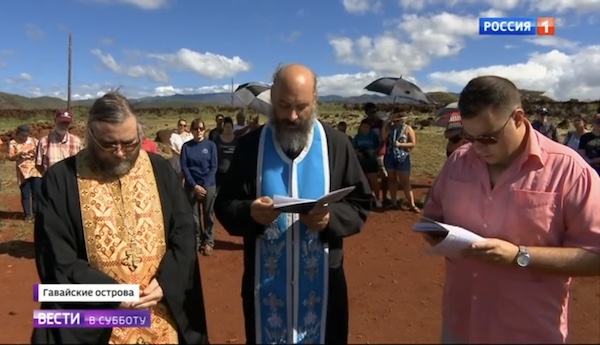 As I stood there doing the Panihida, I found myself thinking… "how did I come to be here? I sure am a long way from Kodiak". Psalm 117 ran through my head: This is the Lord's doing, and it is marvelous in our eyes.


It looks like our trip to Kauai made the news in Russia. The video of the Panikhida starts at about the 42 minute mark:
---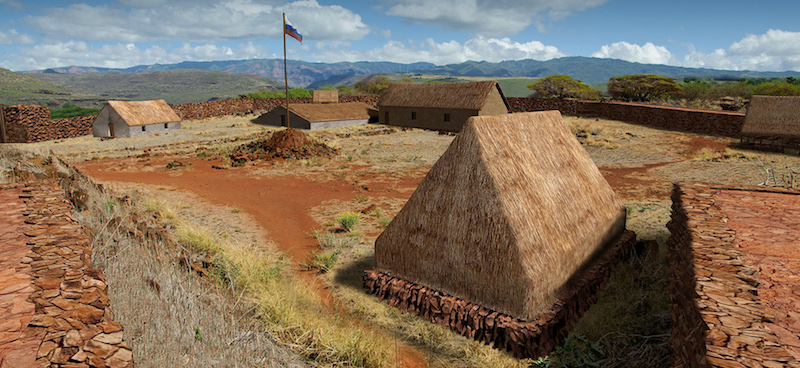 Here is an artistic rendering of what fort Elizabeth could have looked like:
Sasha lives in the Seattle area but is a frequent member of our parish.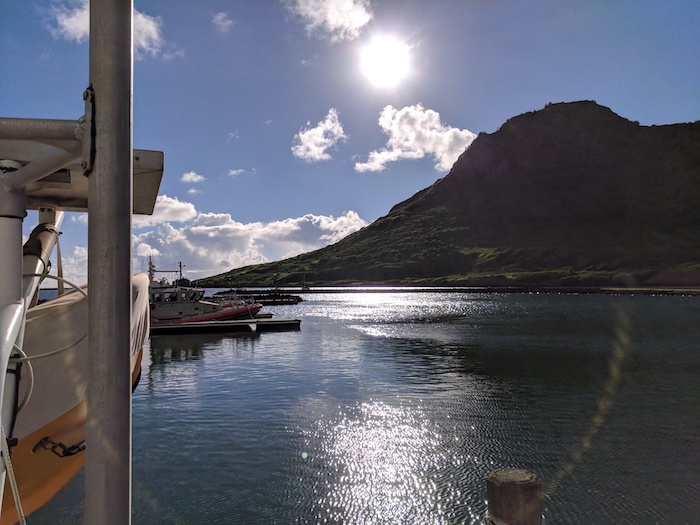 He sailed his sailboat from Oahu to Kaui, with many people from our parish. I was told the voyage was rather rough even for experienced sailors. I was glad that I had to fly over to Kauai.
For those who journeyed to Kauai, which is a remarkable emerald isle, it was a wonderful time to wander around and explore. The worn beaches, greenery and stunning canyons of Kauai are remarkable.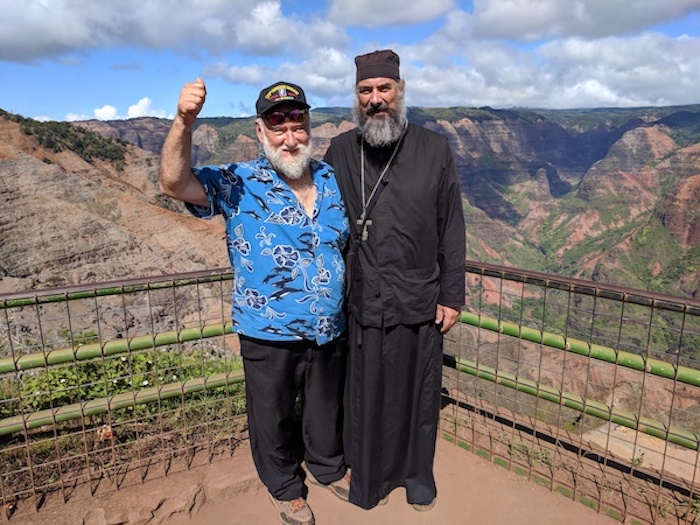 The Grand Canyon of the Pacific.
The rainforest at the top of the canyon receives the most precipitation as any place on earth. At the top of the cliffs is a rainforest that gets more precipitation than any on earth. It receives over four hundred inches of rain annually. Yes, that is over thirty feet of rain. At the top, there is a swamp, and waterfalls cascade into the valley below. I am hoping to go back to Kauai someday and spend a little time exploring the beautiful beaches.
Orthodoxy in Kauai
During my time there, I meet some Orthodox Christians who are interested in starting up services. I am interested to know how many people there are on Kauai who would like to have an Orthodox church there. If you know of any people please have them contact me.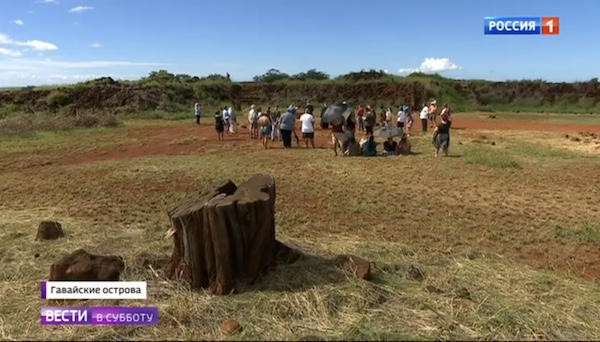 More history of the event can be found here