Archimandrite Sergei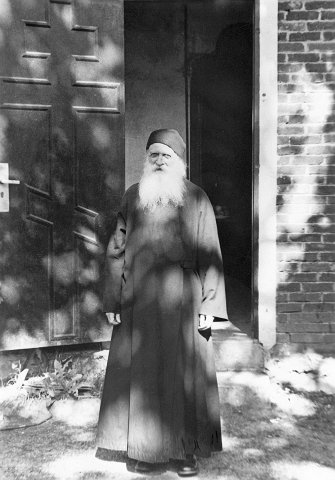 In Christ with love,
Fr. Athanasius
---
The fear of God is the fear of being separated from God.
We shouldn't strive to penetrate Divine mysteries with our minds. We must accept the mystery. It won't be revealed to us until we accept it as such.
In order to receive something from God we need to ask Him with humility and not judge anyone.
We should try and think less of ourselves and think more about God all the time.
We must love God and not just comprehend and know Him.
We should treasure a sense of mystery towards God. I am pleased when I don't know.
Christ became Man, for the human nature was the only place where man and God could meet. Otherwise he would have been scorced by God, as was Moses on Mount Sinai.
Perfection is not the perfection of man but that of God in man.
On relations with our neighbors
The truth and all that is related to it should never be compromised, but we should be extremely tolerant of people who sin and err.
We must respect people more than they seemingly deserve it.
Self-obsession is the beginning of a mental illness. The foundation of mental illness is putting yourself at the center of the universe.
What really matters is love. The apostle Paul said: And though I have the gift of prophecy, and understand all mysteries, and all knowledge; and though I have all faith, so that I could remove mountains, and have not charity, I am nothing (1 Cor. 13:2). The demons are able to fathom and comprehend just as we are, but they cannot love.
If we want to deepen our relations with other people, we need to pray for them. We should also pray before telling them anything. It is thanks to our prayer that we will understand what we should say and what we shouldn't say to them.
All that concerns love for our neighbors is based on prayer for our neighbors.
On humility
Humility is the shortest path to salvation, without which everything collapses.
True knowledge is not attained by mental exertion, nor even by an act of thinking. True knowledge is acquired through humility.
We should be humble for God's sake. If people make use of and abuse our humility, then nevermind. People abused the humility of many saints. We shouldn't worry about that: All that matters is our state before God.
We should seek humility and not holiness, because holiness without humility is nothing but vanity.
Humility is the basis of the spiritual life and, at the same time, like love, it is its summit.
On repentance
We should offer repentance permanently, not for something wrong that we have done, but because of the fact that our nature is weak. We must repent of being what we are.
When we repent we should take into account not only the bad deeds we have done but also all the good things we have not done.
God prefers him who commits sins and repents to him who believes that he has no sins and thus doesn't repent.
Repentance is the key to the spiritual life. It allows us to put on the wedding robes without which we will be thrown out.
Repentance is not just an act associated with one or another sin that has been done once; rather, it is a permanent, ongoing state.
As soon as we have plunged into a bad mood, we need to ask for God's forgiveness.
On prayer
Prayer is the language of the world to come.
We should pray unceasingly. Prayer is both the nourishment and life of the soul. Without prayer, the soul withers and dies.
The strength to resist sin comes from God, and we get this strength through prayer.
If we cannot pray during every kind of work, then at least we must do all our work in the spirit of prayer.
Prayer should necessarily be regular. Prayer eventually penetrates our souls just as drops of water wear away the stone onto which they drop over and over again.
We shouldn't devote one or two moments of the day to prayer. Prayer must be the driving force of our entire lives. We should learn not to do anything without prayer.
The Jesus Prayer without humility is a catastrophe.
What is of prime importance in prayer is the spiritual impulse. Prayer should be accompanied by repentance. Christ came to this world to teach us repentance, not technique.
Prayer is like a light that illuminates everything around and that enables us to examine the depths of our souls closely.
Prayers for the departed are very important to them and us alike. At the same time, it is the expression of our belief that there is no death.
On spiritual life
Spiritual growth manifests itself in the abandonment of worldly cares with determination rather than in brilliant acquisitions.
External circumstances can never be used to justify the defects of the inner life.
Our life is in Heaven—our true life. And we must live by this already here on earth.
People are not expected to "take leaps." They need to walk towards God gradually but with consistency. The "middle path" is the royal path.
Patience is absolutely necessary in the spiritual life. It is born from humility.
A rule for life: Pray more and deliberate less.
We should beware of extremes in the ascetic life. We need to keep fit not only spiritually, but also physically. The flesh should be strengthened and not mortified. Christ Himself took care of His body: He ate and slept.
We should take care to constantly concern ourselves with the things that have to do with God and not with ourselves.
The only thing we should seek is that the Lord would look down on us in His mercy and accept us.
We must live in God and not in ourselves. Being self-content is very dangerous.
We must love the Heavenly world and seek it whatever the cost—the world above and not this physical world, which is too fragile and unstable.
The great mystery of spiritual life is that we act by the power of God and not our own. To have Christ in us is a great mystery.
We should care about the destiny of our souls upon separation from the flesh and not the destiny of the entire world; about our own end and not the end of the world; about our own destiny and not the destiny of the whole of society.
We should always feel as someone who is waiting for a train feels, knowing that the train may arrive at any tick of the clock.
We are in this world to endure hardships.
We should live through every day as if it were the last. For all that, we shouldn't say that one day doesn't matter. If the words of the apostle that one day is with the Lord as a thousand years (2 Pet. 3:8) are true, then it is also true that every single day is as important as a thousand years.
The purpose of the struggle is not to cease the struggle one day. The warfare will go on forever. But the longer we struggle, the greater our chances of winning a victory in this battle.